Qi Gung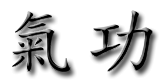 Qi Gung


The ancient Chinese art of breathing and stretching. Shaolin Luohan Qi Gung contains elements similar to yoga, tai chi and meditation. This art can be practiced as vigorously or as gently as desired making it effective and suitable excercise for everyone.


Master Foen Tjoen Lie
Regular practice drastically improves your mental and physical fitness enabling you to cope more effectively with day to day life.

Call now to set up an appointment or sign up online for your free trial lesson.